REGISTRATION DEADLINE IS
SEPTEMBER 16TH!!!
Our 2020 Fall Conference may be cancelled but we still have opportunites for you to attend Certification Classes - FOR FREE!!!*
THERE WILL BE FOUR WORKSHOPS OFFERED OVER THE COURSE OF TWO DAYS.
THEY WILL APPLY TO CERTIFICATION.

SEPTEMBER 23:
9:00 AM - 12:00 NOON
LEADERSHIP PRINCIPLES FOR DIFFICULT CONVERSATIONS: This interactive program is designed to improve the effectiveness of your conversation skills in difficult situations. Any leader who is seeking strategies and tips on managing critical situations with your team will benefit from this content. Situations examined include: informing potential hires they have not been selected, performance review, and allowing a current team member to pursue other career opportunities.

1 :00 PM - 4:00 PM
INTRO TO PURCHASING: This course is designed as an introduction to the Oklahoma County Purchasing Act. It is a brief review of the roles and responsibilities of all elected county officials and purchasing officers. The procedures as required in Title 19, the County Purchasing Act and in Title 61, Competitive BIdding, will be highlighted. Other topics will be inventory and disposal.

SEPTEMBER 24:

9:00 - 12:00 NOON
COMBINING WORK CULTURES/ETHICS: COMBINING CULTURES: Participants will first learn about diversity in their workplace - in particular, generational diversity - so they can understand ways to work with and engage all the differences in their team to create a more effective culture. LIVING A CULTURE OF INTEGRITY AND ETHICS: Participants will then learn more about maintaining a culture of integrity and ethics in their workplace, because this is not only the right thing to do, but employees and the public only want to be associated with people and groups of integrity

1 :00 PM - 4:00 PM
INVENTORY TRACKING: A system for tracking and identifying fixed and consumable inventories is essential for every county in order to maintain compliance with state statutes. This class covers those statutory requirements and the forms needed to maintain the system. In addition, the roles and responsibilities for the county officers, department heads, and receiving/inventory officers in the inventory process are defined in detail during the presentation.

THE BEST PART? THE WORKSHOPS ARE FREE FOR CODA MEMBERS! ! !
*THE COST FOR NON-MEMBERS IS $30/CLASS. THIS WILL BE INVOICED BY AND PAYABLE TO CODA.

IF YOU HAVE ANY QUESTIONS REGARDING YOUR MEMBERSHIP STATUS PLEASE CONTACT US OKCODA@GMAIL.COM

TO REGISTER FOR THESE OR UPCOMING OSU-CTP PROGRAMS PLEASE CHECK THE
CODA MEMBERS ENTER "CODA" ON THE PO# LINE WHEN REGISTERING.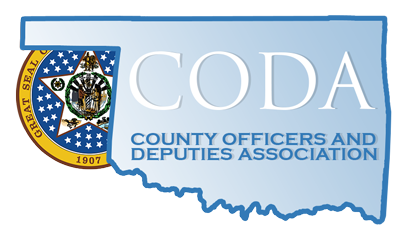 Our Mission
Provide opportunity for county officials to exchange their ideas on the operation of their respective offices.
Elevate the standards and offer ways and means to serve the public better.
Exemplify the ideals of public service as an influence in business and civic life.
Provide leadership and direction in the education of its members, as well as the general public, as to correct purpose, function, and operation of each county office.